48 Hours to Victory, Channel 4
Broadcast, Nick Watts • 3rd December 2021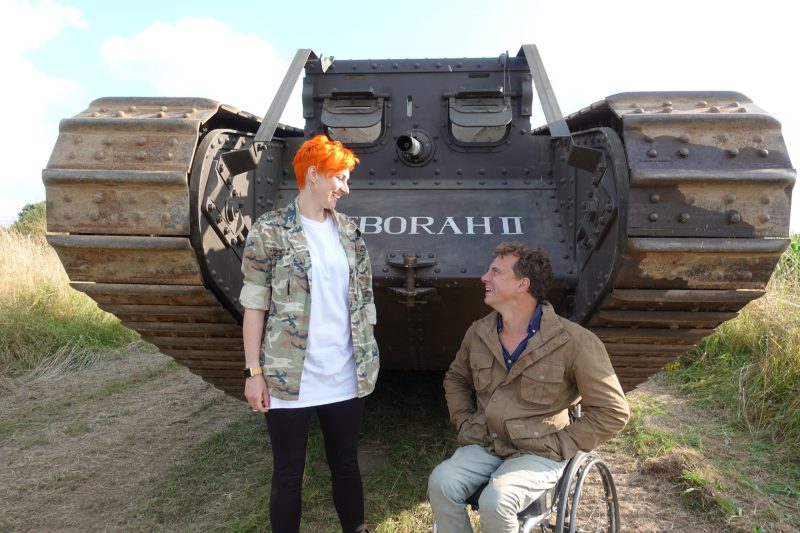 Time constraints and Covid restrictions couldn't stop us bringing this historical series to life, says producer Nick Watts
I was asked to series produce 48 hours to Victory only back in July, with delivery and TX at the end of November/early December. So it was always going to be a challenge to establish a new history format with a large CGI element, shooting in Europe during a global pandemic.
But on the bright side we did have presenters Dermot O'Leary and Arthur Williams already locked in. I'm a huge fan of Arthur, I love the enthusiasm he brings to military history, so I was thrilled to be working with him. Dermot is one of the best in the business, and I'd heard him talking about his passion for history. It was a joy to work with him in a genre I love, and I think it might surprise a few people.
The third presenter, Lucy Betteridge Dyson, was new to broadcasting, but after hearing exec Siân Price's enthusiasm, looking at Lucy's audition tape and a couple of phone calls later I too was convinced we had uncovered a gem. I wasn't wrong.
One of the best aspects of the series has been working with three such talented and engaged presenters. It was huge fun, and the chemistry between them jumps off the screen.
The next big challenge was how to structure the new format. As is often the way, the time constraint ended up being our friend; there was no time to sit around sucking pencils and staring at the ceiling, we just had to get on with it.
Within a week we had a format beats document with Sacha Mirzoeff at Channel 4, followed up with story arcs for the three films, Dunkirk, the Somme and Waterloo, 10 days later. Once that was all signed off, we entered the second trimester, always the best bit.
Yeti are based out of Wales, but this project was run entirely remotely. I live in Dorset and the rest of the team were in Cardiff, Bristol, London, Birmingham and even the Isle of Wight! Whilst Richard Littlejohn might distrust WFH, I am 100% sold.
Meetings last as long as needed but no more, no time is spent wasted on traveling, and you can start and finish as early and late as you need and still get home in 10 seconds. The team were incredible, and within days the story grid was fleshing out.
However, before this all starts sounding too easy, there was one huge elephant in the room – Covid. Our three battles took place in France or Belgium, under normal circumstances as easy hop across the channel. But when we started France was on the amber list and UK passport holders barred from Belgium. I spent a few weeks telling the team it would be fine, based on nothing but hope and hubris.
Turns out I was 75% right – France was put on the green list with a couple of weeks to spare and Belgium's rules eased just enough – we could still go in but with a 24 to 48-hour quarantine period for PCR results.
The biggest problem with this was the impact on budgets – crew days, presenter days, hotels etc. But we found an ingenious solution – we housed the crew in Hougoumont farm, one of the key locations during the battle of Waterloo, which is now a B&B. While the team waited for their test results they were legally allowed to roam the grounds filming PTCs and GVs.
Waterloo also demonstrated the quality team we had on the project. We planned to film Lucy riding a horse over the route of a cavalry charge immortalised in the painting Scotland Forever! (see front of Risk game box). But 10 minutes before the start of filming the horse owner pulled out for insurance reasons.
Within 30 minutes, AP Henry Ajayi-Ward (who also handily spoke fluent French) had rustled up another horse, on location, in the middle of Belgium, in a pandemic. And this one was even insured!
Shooting back in the UK was relatively simple after that. Because of covid challenges, getting experts out to Europe was a non-starter, so I decided to use a central location for interviews, links and presenter chats, and we settled on Tilbury Fort. This was a big success as it offered up a variety of generic, period location options that, whilst never claiming to be on the actual battlefields, didn't yank us jarringly back into modern life.
It was also a highly efficient use of everyone's time. I'd far rather people are turning over all day than sitting on a traffic jam on the M25 trying to get to the next location. The unexpected (and hilarious) by product of this location was heading to the World's End pub next door to the fort for a post-wrap pint only to discover a proper East End wedding knees up in full swing.
Bringing Dermot into that environment was like dropping a mint imperial into a bottle of fizzy pop – the place went nuts. Seldom have so many selfies been demanded, babies presented for pictures and hearts set a-fluttering as they were that evening in Tilbury.
USING GFX TO BRING THE BATTLES TO LIFE
Steven Gomez, visual effects director
Emmy award winning creative studio Bandito VFX worked alongside Yeti productions to design and produce the hi-tech war table used to demonstrate the key moments and turning points during the '48 Hours to Victory'.
The brief was to re-invent the war room for the 21st century! The presenters of the show were filmed in a studio around a specially made green-screen table. The footage was then edited and supplied to Bandito where the green screen was transformed into a futuristic, digital battle table.
The main aim of the 3D table was to be able to communicate a great deal of information to the audience whilst keeping the presenters on-screen. Having both the presenters and the GFX visible at the same time, helps guide the audience through very complex military manoeuvres whilst keeping a friendly human element.
Where possible, the team also wanted to push the explanatory GFX further by conveying the sheer number of people involved in these battles. Using motion capture data and 3D assets, Bandito produced shots of thousands of troops marching into battle at Waterloo, German grenadiers bombarding a tank with grenades and British soldiers waiting on the Mole at Dunkirk, all shots giving the audience a true sense of scale.
Using the GPU render engine 'Red Shift'; an online render farm and several powerful 'Thread Ripper' machines supplied by Armari computers, Bandito were able to produce a high volume of detailed visual effect shots which were turned around quickly without rendering slowing down the work-flow.
The use of this high-end equipment and software on the project meant that production could depend on Bandito to change or make new shots quickly as the show evolved.